Weekend Recap
Yes, I really meant to get a whole LOT more done this weekend, but if I tell you all that I did do, maybe it will seem like more, and I won't feel so bad. Ok? Ok!
Friday night after a day at work when my computer was
Still
acting fussy (I can't merge from Access to Word, which is only something that I do, like 700 times a day!), I went home, grabbed some dinner, and got onto the roomie's computer for a little CoH time. After weeks and weeks and weeks of being at level 49, I finally
finally!
hit the big 5-0, with a lot of help from my friends. I got this shot, but I think someone else got an even better one. I mean, I hope.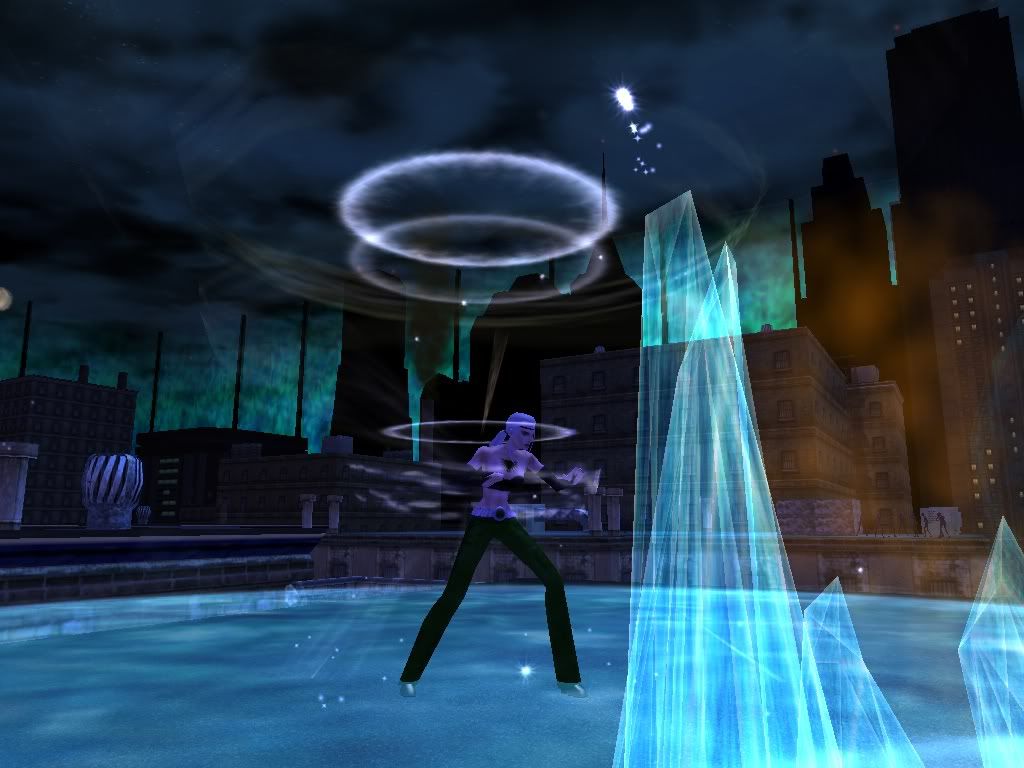 So that was exciting! I made it to the top of the game, and it only took me, oh, over a year to do it. (And yes, I know that you can click on any random passerby whose name begins with a certain letter to find out just how many hours you've played, but why oh why would I ever want to know THAT?!?!?) I headed off to bed happy.
In the morning, the roommate told me one of the funniest Famous People Sighting stories I've ever heard. If you're here in NYC, you have to get him to tell it to you, but otherwise, I will say this: Sarah Silverman. Jimmy Kimmel. and HUEY LEWIS. I know!!
The rest of the day Saturday I spent reading a manuscript for work (which I must respond to the author about) and lollygagging about, then went down to the Lower East Side in the evening to meet a friend from work whose
boyfriend
was playing at a bar called Pianos, where a client of mine was also performing, at the very same time, but in a downstairs venue as a backup singer. So I got to see (and hear) them both. Lucky timing, what with who was running late, and who was cut short. It worked out well. My friend emblaze met me down there, and after the set, she and I headed to the famous Katz's Deli (Send a Salami to your boy in the Army!) and shared a delicious corned beef sandwich. Which, as I commented to her, is just about the only food I can think of that is considered a cultural artefact of both Jewishness and Irishness, and thus, one of my favorites.
We then headed back uptown to meet my work friend and her boyfriend again at his
brother
's CD release party, found a wallet on the sidewalk on the way, enjoyed the music for a while before finally deciding to call it a night, but not before stopping at the police station in the Columbus Circle subway station to turn it said wallet. I'm such a good citizen! I hope it gets back to the girl who lost it.
Sunday, after sleeping in, I caught up on watching "Alias", played a little CoV and got my stalker up to level 10, and went to see "Harry Potter and the Goblet of Fire" with the roomie, MJ, and a bunch of other fun peeps (whom I will have to give amusing nicknames to if they continue to feature in my blog. Guys, you've been warned!) Oh, Harry, Harry, Harry, Harry, Harry...
*sigh*
So good. Well done, Mike Newell. Well done, indeed.
After that excitement, I came home, read a screenplay for work, watched a little "Simpsons," and went to bed.
So, do I sound accomplished?